ARE YOU LIVING YOUR LIFE WITH INTENTION? ARE YOU MAKING THE BEST OF YOUR LIFE? or Just Letting Life Happen?
MAKE THE BEST OF YOUR LIFE AND BUILD THE LIFE YOU DESERVE.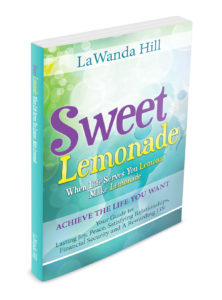 Sweet Lemonade will help you:
Bring balance into your life
Transform your life and family
Make a difference in the lives of others
Strengthen your relationships
Achieve difficult goals
Overcome challenging situations in your life
Understand that everything in life happens for a reason
Become inspired to take action
Have you allowed the challenges of life to take you out of the game?
Sweet Lemonade will show you how to reach your desired life no matter where you are in life. It demonstrates that it's not how you start, it's how you finish…
This book will help you to be the awesome person you were born to be. You will find help, healing, and hope in this book.
Click here to order an autographed copy | Order on Amazon here
---
Get a FREE excerpt of LaWanda's book!
Add your first name and email address below for INSTANT DELIVERY!